Aging Investor is a professional team of experts with extensive healthcare, elder law, and psychology experience dedicated to helping you, the financial professional with best practices for solving your thorniest aging investor problems.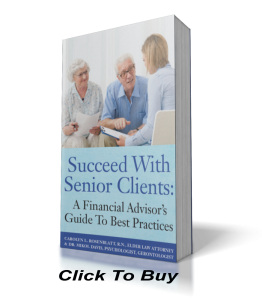 Along the lines of keeping seniors safe, I have found some good information in the book Succeed With Senior Clients: A Financial Advisor's Guide To Best Practices by Elder Law Attorney Carolyn Rosenblatt and Psychologist Dr. Mikol Davis.  The authors recommend that advisors develop a series of best practices and checklists to better serve their aging clients as well as protect themselves from potential liability.  The takeaway I got from the book was the authors' recommendation to segregate clients over age 65 and create a service model that focuses on their needs.   This service structure would involve more frequent meetings and communications with senior clients to stay on top of their physical and mental health.  Segregation would also serve as a reminder to office staff to be more attentive in conversations with senior clients for signs of decline in physical and mental health and to keep advisors abreast of these interactions.  The authors provide several checklists for warning signs of diminished capacity, signs of elder abuse, and steps to take to create a senior-centric service model.
Scott Nelson, CFA, CFP® Financial Advisor
Carolyn Rosenblatt, RN and elder law attorney, together with her partner and husband, geriatric psychologist, Dr. Mikol Davis founded AgingInvestor.com to offer aging expertise to financial professionals in all settings. "The Silver Tsunami" is upon us. We are dedicated to helping you quickly develop the skills you need to meet the challenge of our society's longevity and risks in your own clients.
At AgingInvestor.com we help you, the financial professional navigate delicate situations that come with serving aging clients.
We offer you answers to those thorny capacity questions, presentations, comprehensive training and toolkits, checklists, help with difficult conversations, CE online accredited courses, consulting packages and practical books.
Get updates on new articles, eBooks, webinars