How to Recognize Financial Elder Abuse
By Carolyn Rosenblatt, RN, Elder Law Attorney, and Dr. Mikol Davis, Psychologist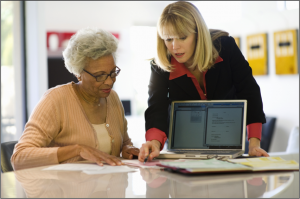 Financial professionals are seeing more financial abuse of aging clients than ever.Why?  Elders are living longer, but not necessarily in great health. The pervasive problem of Alzheimer's Disease and other dementias can steal a client's financial judgment and make the person much more vulnerable to manipulation.  Even if an elder is still competent, she may be subject to the improper persuasion, called "undue influence" of a family member or other trusted person.FINRA has urged for years that financial professionals become trained in and more aware of the signs of abuse.What is financial abuse?  The National Committee for the Prevention of Elder Abuse defines it as the illegal or improper use of an older person's funds, property, or resources.  it can take many forms though we focus in this paper on financial abuse exclusively. There are many red flags or warning signs you need to be aware of to help you take protective action for your clients.
Warning signs may include the following:
1.     Your client has always had a trusted person whom he appointed as an agent on his Durable Power of Attorney forms some time ago. Suddenly, he changes and gives the DPOA power to a different person, and you question that new person's motives and behavior.
2.     Your client, whom you've known for some time, is not able to access her own funds under your management and other financial assets and property.  Her assets appear to be under the control of someone else who has stopped your client from making any decisions about her money.
3.     You receive a change of address notice indicating that your client is no longer receiving mail at the location where he has been for as long as you've known him.  You heard nothing from him about moving and were sure he did not want to move.  You question this change of address.
4.     When you call your client, someone else answers the phone and says your client is out or otherwise unavailable.  Your written communication attempts to contact your client receive no response.  After many tries, you get the impression that someone is stopping your client from taking your calls.
5.     Your client has always been a conservative investor, preferring low risk products over the long period of time you've known him.   Suddenly, he wants to withdraw cash to put into things you consider highest risk if not downright dangerous.
6.     In checking your client's account, you notice numerous large withdrawals, unexplained and completely outside the norm for your client.
7.     Your client comes to your office with a relative or friend whom you have never met and who has never before been involved in your client's financial matters.  Your client seems pressured to include this other individual in obtaining all of his account information and to direct transactions.
CAUSE FOR ALARM
Here at AgingInvestor.com, we encounter many families who are very alarmed about situations like those in the warning signs described above.  The worst problem we see is that financial professionals may observe these things, but they do not have a clear path about what to do. The best they may have is an "emergency contact" person in the file, if they even got that when the account was opened. The difficulty is that one cannot be sure that any of the warning signs listed above, while suspicious, truly constitutes an emergency.  Did your client give you permission to provide information to the emergency contact person based on suspicion? How about the rules and limits of contacting the third party, if you have one?  We offer you specific plans about how to manage these situations through our webinars at AgingInvestor.com, but we wonder what you are going to do in the meantime.  Your client's funds can disappear overnight.
We leave you with a true story of a disabled woman in her 70's, living in California. She had a $4M portfolio, which included commercial real estate and securities. Her caregiver, over a period of six years stole every penny, including selling the real estate.  Where was the financial advisor, who probably encountered at least two or more of the warning signs listed above?  The advisor probably could not contact the client. Why did the advisor stop trying and not report the problem? The caregiver got a DPOA, despite never being in the elder's life prior to her disability.  The advisor would have seen repeated withdrawals from the client's account, questionable at best, by the client who had become bedridden due to a disabling disease.  It was a bank that finally reported the thief to Adult Protective Services, but by then it was too late. Everything was gone. The advisor should have become suspicious much sooner.
DO THESE TWO THINGS NOW
The message for you is to do two things to be ready for any scenario with these warning signs in it.
First, know the warning signs and be prepared to act on them.
Second, develop a senior-specific policy for yourself or in your organization so that when you see these warning signs you will have a clear path to follow. You will know exactly what to do to take protective action for your client.  We can help you with both of these action steps.
Convenient, anytime webinars to learn about diminished capacity and senior policy development are available at AgingInvestor.com now.
ABOUT THE AUTHORS
Dr. Mikol Davis, Ed.D, is a licensed clinical psychologist specializing in geriatrics and the emotional challenges of aging. He has been a mental health provider for 39 years.  He has worked with individuals and families of all kinds, and all ages. These days, he focuses on working with clients and their families on age related difficulties such as loss of cognitive ability, dementia, depression and anxiety. He serves those who are business owners needing to "pass the torch" but have difficulty giving up power. He does psychological testing to determine whether a person has capacity to make financial decisions.   He advises those who have difficult elders about how to approach the problematic behavior.
Together with Carolyn Rosenblatt, his wife, he serves as a mediator of family conflicts.   They formed their first consulting practice, AgingParents.com in 2007. They provide advice and strategies to families who struggle with their elders on a variety of issues such as caregiving, sibling arguments, when and where the aging family member needs additional help and financial decisions.
Carolyn Rosenblatt is a Registered Nurse with 10 years of working directly with patients, many of them elderly.  Her second career was practicing law representing injured individuals, which she did for 27 years.  She retired from litigation to become a consultant and mediator at AgingParents.com. Working together, she and Dr. Davis have served many families in conflict to work out agreements.
In the course of advising families about the problems of getting older, both she and Dr. Davis became aware of the information gap in the financial services field. Many advisors did not seem to understand or recognize what cognitively impaired clients needed. The advisors had no clear policy for how to manage a senior who seemed to be developing memory problems.  Worse yet, no one seemed aware of how to protect aging investors from making their own dangerous financial decisions.  Privacy concerns blinded advisors to the possibilities of developing new, compliant senior-specifc programs to help both themselves and their clients with dementia or other cognitive impairments.
AgingInvestor.com grew from the observations and concerns about that information gap.  They researched the industry well, looked at what regulators wanted financial service professionals to do about aging clients and set to work developing educational materials.  Their efforts evolved into programs for industry professionals to develop senior-specific special policies.  They also created extensive educational materials for financial services folks to learn about aging, cognitive impairment, avoiding prosecution, and intergenerational wealth transfers.
Their mission is to prevent financial abuse of seniors and mistakes by professionals.  Professionals will be better equipped to prevent their own from taking advantage of seniors if their colleagues, firms and organizations have a clear direction and clear, uniform message about what to do. Mikol and Carolyn want financial services professionals to be clear about a course of action when age-related cognitive impairment affects financial decisions.  They offer their expertise, policy development assistance and training to the industry.
Our mission at AgingInvestor.com is to encourage all financial advisors to help Stop Financial Elder Abuse in America. All of our 6 online courses are offered with CEU's through our partnership with the Certified Financial Board (CFP).