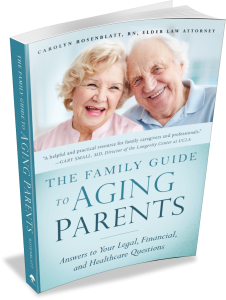 Looking for practical ideas and expert guidance in making decisions about the legal, financial, and healthcare issues facing your aging parents? Carolyn Rosenblatt's book, The Family Guide to Aging Parents, is available for purchase and includes insight on important financial topics such as:
Family disputes
Caring for aging loved ones from a distance
Protecting aging loved ones from financial abuse
Our Guests: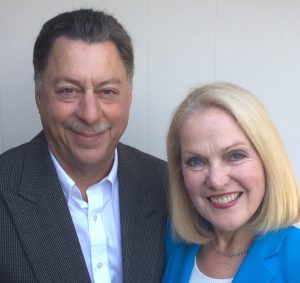 Dr. Mikol Davis and Carolyn Rosenblatt
For perspectives on these topics and more, tune in to KQV 1410 AM tomorrow evening at 7:05 p.m. for The Lange Money Hour, Where Smart Money Talks, as Jim Lange welcomes Carolyn Rosenblatt and Dr. Mikol Davis to the show.
Carolyn Rosenblatt began her career as an RN, primarily working as a visiting nurse for 10 years. She is also an attorney who vigorously represented injured individuals over a 27-year career.  When Carolyn retired from litigation and trial work, she started AgingParents.com with her husband, psychologist, Dr. Mikol Davis. Initially, Carolyn planned to help resolve conflicts involving elders and their families.  As she began working as a mediator, she found that her clients often needed someone with knowledge to provide answers on both health care and legal questions.  Those two areas of expertise can rarely be found in the same individual, and Carolyn saw an opportunity to bring her two professions together to fill that need.  Carolyn is a regular contributor to Forbes.com on healthy aging and dealing with aging loved ones.
Since the show will be live, you can join the conversation by calling the KQV studios at 412-333-9385 after 7:05 p.m. You can also e-mail questions in advance by clicking here. The show will also be live-streamed at www.kqv.com.  KQV will rebroadcast the show this Sunday at 9:05 a.m.  The audio will also be archived on our web site at www.paytaxeslater.com/radioshow.php, along with a written transcript.
Finally, please join us in two weeks on Wednesday, September 16th at 7:05 p.m. for the next new edition of The Lange Money Hour.
About James Lange, CPA
Jim Lange has 3 decades of retirement and estate planning experience as a CPA. Jim's strategies have been endorsed by The Wall Street Journal (35 times), Newsweek, Money, Smart Money, Reader's Digest, Bottom Line, and Kiplinger's. His articles have appeared in Financial Planning, The Tax Adviser, Journal of Retirement Planning, and Trusts & Estates.
Jim is the host of The Lange Money Hour on KQV 1410 AM. He is also the author of two best-selling books, Retire Secure! (Wiley 2006 and 2009) and The Roth Revolution endorsed by Charles Schwab, Larry King, Ed Slott, Roger Ibbotson, Natalie Choate, and Jane Bryant Quinn.